Officina Stellare OS Mount computerized altazimuth mount
Officina Stellare OS Mount is THE altazimuth mount for telescopes up to 80cm (or smaller telescopes in array configurations). OS Mount is a professional mount, ready for every demanding user, perfect also for pointing and tracking of LEO objects. The structure is optimized for high stiffness and is designed to minimize any thermal deformation. It is available both with direct drive or AC brushless high torque motors on both axes.
Availability and price on request, please contact us if you want to know more.
If you pay by bank transfer 39.754,10 €
Absolute Heidenhain on axis encoders are very precise, with a resolution up to 28 bits (0.004 arcsec) thus allowing real-time tracking correction on each axis and motion metrology as well. After modelling, the measured and working pointing error is tipically 5 arcsec RMS and the tracking precision is tipically +/- 0.25 arcsec RMS over a 20 minutes exposure. These are not theoretical values, but measured ones. The mount is provided with a fully featured software suite: The Sky X pro© with all optional packages included. This provides to the customer the capability to use the most complete and advanced modelling core available today: T-point©. So you can get your mount ready to use, for all kind of research works, including astronomical, satellite tracking and laser communication applications.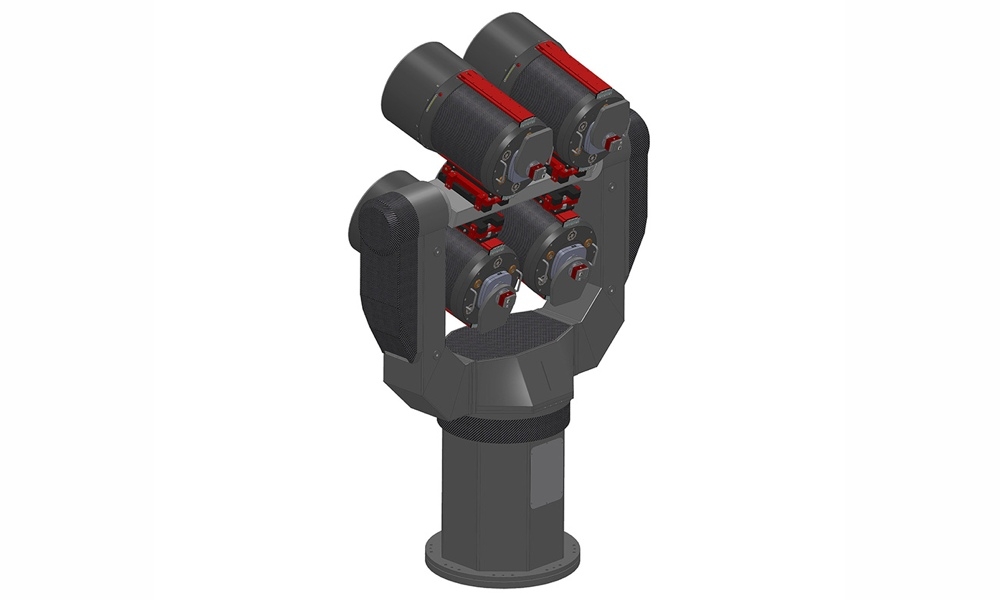 Officina Stellare OS Mount computerized altazimuth mount: main specifications
Two-arm fork layout, ALT/AZ layout
Steel – aluminum frame
Concrete base/pier interface provided. Custom piers available
Easy and fast restart after previous session end and/or failure
Pre-loaded precision oversized ball bearings on both axes
FEA optimized structure for high stiffness
Minimized thermal dilatation
Microprocessor controlled motors on both axes
Full control from local/remote PC, basic functions from local hand pad Direct Drive or high torque AC brusheless motors on both axes
Real-time tracking correction and motion metrology on both axes
Absolute Heidenhain on axis encoders, with a resolution up to 27 bit (0.004 arc/sec) Programmable slewing/point speed, tipically up to 12°/s. Higher speed available
Middle term (20 minutes) tracking precision +/-0,25 arcsec RMS
Pointing error, typical (before mount modeling): 12 arcmin
Typical pointing error after mount modelling: less than 10 arcsec
Wide internal object database, expandable and online upgradable
5 pre-set tracking speeds (sideral, solar, lunar, "user" and "land mode") Non sidereal objects tracking capability
Park and Homing functions
Sub arcsecond non sidereal objects/satellite tracking capability
High precision, heavy payload capable field derotator at Nasmyth focus
Hand pad brightness tuning
Software selectable mount movement limits
Electromechanical safety brakes presents
Auto sync possible (sync on a bright star near the desired object) Internal high precision real time clock
Automatic alignment from last position (resume)
Automatic alignment from park or home position
Complete advanced T-Point© pointing model functions
Full TCS management software (Windows) provided
ASCOM driver provided
Software Bisque The Sky X Pro© – T-Point© – Camera Add On© with license included
Communication protocol and SDK provided, for third-party software development
Power supply and complete user manual provided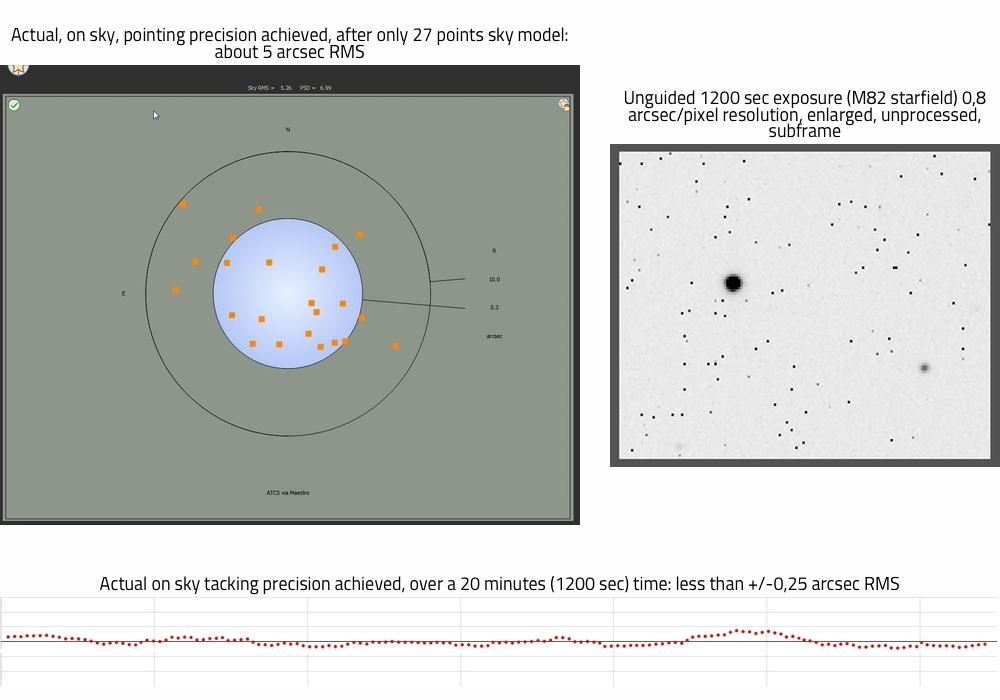 Power requirements

230V

Dovetail bar fitting

Custom built

Polar finder

No

Load capacity (kg)

300

Pulsantiera di controllo

Yes

Contrappesi

-

Motors

Direct drive

Controllo dell'errore periodico

Yes

Porta autoguida ST4

No

Mount type

Alt-az

Treppiede

No

Velocità massima di spostamento

20°/sec